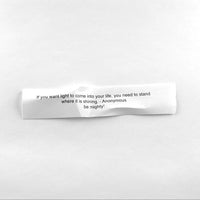 About the project
The BE MIGHTY Project posts flyers all around NYC with quotes of inspiration, wisdom and motivation on each tab that connect with passersby and I hope plant seeds of seeking, strength and courage in people around New York and beyond. 

The goal of the BE MIGHTY project is to reach everyone who is need of a little nudge into action to help them find their own path towards their dreams and to give them advice in overcoming their own obstacles & challenges.

Spreading inspiration and words of wisdom by encouraging action in others in anonymous ways helps build a more enlightened society, people and culture and inspires the dream makers and risk takers while also giving confidence and inspiration to those underserved hiding in the shadows in need of an encouraging nudge of support. 
                                         ❦
DONATE